Starting at Tweseldown September 2021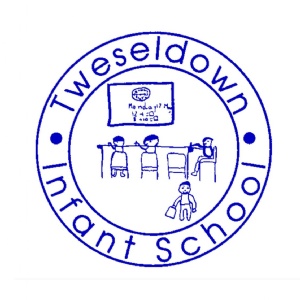 Hello and welcome to Tweseldown.
We are really disappointed at not being able to show you around in person. We have a duty of care to keep our children, our staff and our community safe and with this in mind we have produced a video that we hope gives you a feel of who we are.
We are a four form entry school. That means we have four classes in each year i.e four Reception classes for 4 and 5 year olds, four Year One classes for 5 and 6 year olds and four Year Two classes for 6 and 7 year olds. Although this may seem large we still maintain a lovely family ethos, we get to know each child as an individual and help them to grow and have a love of learning and this is something we are really proud of. In all our surveys and often face to face parents tell us that they really appreciate the family feel of the school and we are absolutely committed to this year upon year.
A couple of other things we are really proud of are:
Our relationships with children and families. All staff genuinely care for each and every child at Tweseldown and go the extra mile. We ensure children are happy, settle quickly and always put their wellbeing of the upmost importance. We seek parents views regularly throughout the year to ensure our provision is matching our current children and then adapt it accordingly.
We are also really proud or our strong results which you can view on our website.
Our school uniform is blue and white, as illustrated below.
In the video you will also see a child in PE kit. We use a 'house' system at school and every child is placed in one of our 'houses' which correlates to a colour. Children are welcome to purchase a sweatshirt of this colour as well as a t-shirt and dark shorts or jogging bottoms. We would inform you of your child's house when you join our school.
Starting school is a huge event in a child's (and parents) life and we help to make this transition to school as smooth as possible by having the following in place:
Children visiting the school in small groups
Staff chatting to pre-school settings
Home visiting (this even worked remotely this year)
Short settling in sessions
We also offer one to one chats (in addition to home visits) if parents would like to discuss anything for example if your child has additional needs and you would like to talk to our special needs co-ordinator.
We are a very friendly school and up until Covid-19 we had a very open door policy. We are devastated that parents are unable to join us in school to help run our library, play games, cook, hear readers but we have our fingers crossed that it will not be long until we see lovely pictures like these again.
I always say that parents are so lucky living in this area as all the schools are good or better. My best advice is to look at websites, view videos and talk to other parents who have children at the school. There will be one that you feel will suit your child and help them to learn and grow and be junior school ready. When you fill out your application for school please choose three schools just in case you don't get into your first choice of school, as this will ensure your child remains in a Fleet school.
Stay safe.
Kim Tottem
Headteacher